Hello ladiessss!
To say that I am super excited for this collection is an understatement. I am HEAD OVER HEELS for this launch. If you missed the title of this post, I am talking about the new Spring collection from OPI which is centered all around Lisbon, Portugal.
For those of you who may not know, I was born in the USA but my parents are from Portugal and my whole life I have been visiting Portugal every other summer. I love it there, its beautiful, food is delicious and the people are the best. I am so proud to be Portuguese so naturally when I saw this collection release, I went bonkers… literally, not even exaggerating. I NEVER purchase full collections of nail polish brands and I am very picky on polishes I buy because I have so many.  This collection though changed everything, I purchased the whole thing and I am not mad about it.
I purchased mine from ULTA mostly because ULTA actually carries three extra shades than other stores for some reason.
So I am going to go through each shade and I am going to also explain the names they gave each shade. I really hope you enjoy this post! Bora la (let's go!)
Climb Every Castle 
This is one of the nudes in the collection. I would say this has more of a peachy undertone to it. This was three coats only because it was a bit streaky on the second coat. This is a simple everyday nude that can't really go wrong for anyone.
Portugal isn't known for its castles but it's definitely got a fair share of castles, more than 100. One of the castles most known is The National Castle of Pena. It honestly probably has every single color in this collection on its walls. Its amazing and if you ever visit Portugal that should definitely be on your list.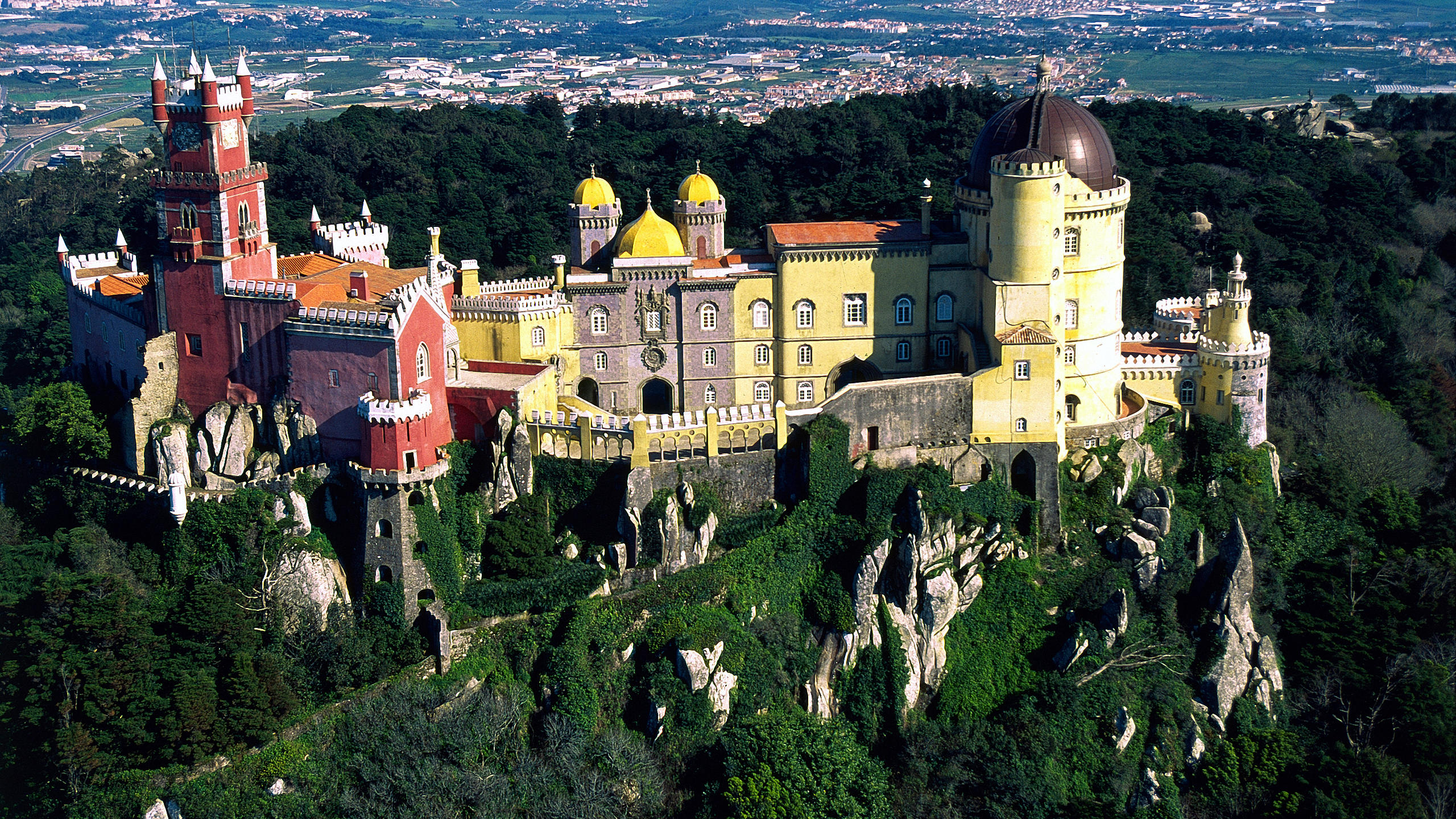 Lisbon Wants Moor OPI 
This is the pale pink of the bunch. Its a nude with a pink undertone. It looks a lot like Climb every Castle if you don't have them side by side and that's why I decided to show you the difference between the two:
Its a slight difference that many might not even notice but I promise they have different undertones. Personally I like Lisbon wants Moor OPI just because I think it matches better with my skin tone.
The meaning behind this polish has to do with the Moors. The Moors were settlers from Africa, specifically Morocco. They were a bit barbaric in the way they invaded the Iberian Peninsula pushing the Romans out and taking ownership. There is lots of influence still left in Portugal from the Moors.
Suzi Chases Portu-geese 
This is the bright white in the collection. Its a beautiful shade of white and one I cannot wait to wear in the Spring. Its clean and sophisticated. It did need three coats because it isn't a very thick formula. My favorite white polish is from OPI – Alpine Snow – and I like the formula on that one more but I love how bright Suzi Chases Portu-geese is. 
To be quite honest, I am not quite sure what this shade name stands for … Suzi isn't a common Portuguese name? If anyone knows the meaning I would love to know. Out of all the names chosen this one is probably my least favorite. Just being honest peeps!
Tagus in That Selfie!
This is the polish I can totally see my mom loving. Growing up pinks like this were what I always saw my mom wearing and when I put this on she was all I could think about. Its the perfect light shade of pink for everyday.
The Tagus river is the longest river in the Iberian Peninsula. I thought this shade name was very clever!
You've Got Nata On Me

 
I want to start with the name on this one because umm duh! If you have never had a Portuguese Pastel de Nata you need to reevaluate your life. Its a custard filled pastry that melts in your moth when done right. I actually visited the original place where they started the Pastel the Nata in Lisbon last September and man they were delicious.
Ok, back to the actual polish… Its a subtle peach. In the bottle You've Got Nata On Me and Tagus in That Selfie! look similar but there is a difference for sure. In the picture below my middle finger is You've Got Nata on Me and Tagus in that Selfie! is my pointer finger. See the difference?!
Can I Bairro This Shade?
This is one of my favorite shades from this collection. It screams spring to me and I love blue toned polishes for some reason. It's a beautiful light blue.
What I also love about this shade is the name. What a clever name OPI! Bairro means neighborhood in Portuguese FYI. So clever … Bairro – Barrow … genius. 
Closer Than You Might Belem
Another fave from the collection. Its a turquoise that will make you stare at your nails all day. Love this color. Two coats and you are ready to go. Beautiful formula.
Belem is a bairro of Lisbon and its actually where my favorite castle in Portugal is. It wasn't actually a castle back in the day, it was more of a tower that they would use to protect from pirates. (By the way… I am really intrigued by Portugal's history and I actually know A LOT about it.)
Made It To the Seventh Hill!
Rose Gold perfection. This is a sheer formula and depending on your preference you can do 1-3 coats. I did three only because I wanted to see how it looked in its full capacity. Its very pretty and I think it will look even better as I tan this summer.
Lisbon is known as the city with seven hills and this shade name is a nod to that.
Sun, Sea and Sand in My Pants 
OK, so I actually love this color. I know it isn't everyone's cup of tea and I totally understand why. With a little tan though this color will be perfect this summer. I did need three coats to get it to this beautiful non streaky color. This color completely reminds me of Portugal.
I will say though that I am not happy with the name. I do agree that it reminds you of the sunshine and fun fact: Portugal is actually the sunniest country in Europe. I wish they had named it after the tram. Its literally the color of the tram that travels through Lisbon!! C'MON OPI!!
No Turning Back From Pink Street
Ladies, this is the pink everyone needs in their collection. Its bright, its feminine, its girl boss in a bottle, its perfect. All I needed to get it to this perfect shade was two coats. Beautiful formula. This is one of my favorites from this collection, for sure.
Many people don't know but there is literally a street in Lisbon that is pink (hence the name of this polish). It's where you will find the bars and all the young night life of Lisbon. Its a trendy street and great for picture taking. And they literally nailed it with this shade. (no pun intended)
We Seafood and Eat It
This shade reminds me of my husband. When he goes to Portugal he basically goes for the food, specifically the seafood. He is the title of this shade. Portugal culinary repertoire is amazing and when it comes to seafood we sure know what we are doing.
OPI describes this shade as a "lobster red" and I can't say that I agree. Its a red with a pink undertone and I am not sure I would call this a red completely. Its got lots of pink in it. It is beautiful and unique.
A Red-vival City
I am just going to say this right away – this is not red, its orange. OK, its a red orange. Its a great shade and I can't wait to wear it with a tan. In the bottle A Red-vival City and We Seafood and Eat It look very similar but there is a difference:
My middle finger is A Red-vival City, see how orangey it is? Nonetheless, it is a great shade. 
Now Museum, Now You Don't
This is a metallic that reminds me of a copper with a red undertone. Its a pretty color, it isn't a color that I usually go for so I would say its my least favorite from the collection but only because I don't think it suits my skin tone. This is the second sheer formula in the collection and I did three coats to get it to its full capacity.
Lisbon has a lot of museums, so maybe that's why they named it what they did? sorry that's all I got …
Tile Art to Warm Your Heart 
I love this shade. I cannot wait to do some nail art with this shade. Its the perfect cobalt blue and it SCREAMS Portugal to me. If Portugal was a nail polish I would totally choose this shade to represent it. Its warm, its bright and its fun.  This shade inspires me.
Many of Portugals architecture consists of tile work on the outside of the buildings. Walking through Lisbon, Porto and many other cities of Portugal you will always find beautiful tile work. This blue is exactly the color of a lot of the tile work you'll find.
And The Raven Cried Give Me More
This is one of those nail polish shades that you can't get the full affect unless you see it in person. Its so pretty. Its deep and perfect for this time of year actually. Its a cranberry with a glittery sheen to it. I did three coats here.
I am thinking that the name of this shade is a nod to Fado? At least that's what it reminds me of. Unless they were trying to talk about the Andorinhas which are Swallows and they are everywhere in Portugal. Not sure.
So? Which is your favorite? Overall I love this collection mainly because of what it represents – Lisbon. I am so happy my little country is getting so much coverage recently. It is about time.
Now excuse me while I go lather my fingers in lotion! After all the nail polish swatching and acetone my fingers are super dry!!
Thank you for stopping by!
xoxo, Sara